Nissance Canada Finance Loyalty Program
The Nissan Canada Finance Loyalty Program was created for one reason - to show our customers our sincere appreciation for their continued business with us! Through the program, our goal is to help our customers get into their next Nissan vehicle as easily and as hassle-free as possible.
The Nissan Canada Finance Loyalty Program puts you at the center of the vehicle buying experience. By adapting a payment plan to fit your specific financial needs, Oakville Nissan can get you into a new Nissan without you having to worry about excessive costs.
If you are leasing or financing your Nissan vehicle through Nissan Canada Finance, or if you currently own your Nissan Vehicle 2007 model or newer, you are eligible to take advantage of the Nissan Canada Finance Loyalty program. Let us help you transition into a new Nissan, stress free!
What is the Nissan Canada Finance Loyalty Program?
We appreciate you, and the Nissan Canada Finance Loyalty Program is our way of showing it! If you choose to lease or finance a new or unregistered Nissan vehicle with Nissan Canada Finance, and you've already purchased with us before, you are eligible for the corresponding specified amount of stackable Loyalty Dollars in the table below.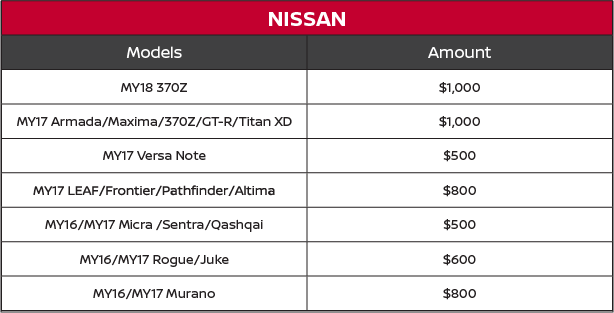 Am I Eligible for Nissan Canada Finance Loyalty Program?
You are eligible if you currently own or are leasing or financing a 2007 model year or later Nissan vehicle. You also qualify if you had a Lease or Finance contract with Nissan Canada Finance which either matured or was concluded as of 90-days prior to the purchase and delivery date of your new Nissan vehicle.
To qualify, you must supply proof of current or previous ownership (lease or finance) contract for an eligible Nissan vehicle. Eligibility is determined by Nissan Canada INC. The offer is not transferable, except if it's a co-owner/co-leasee of the existing vehicle and they reside within the same house as the person applying for the offer.
I Have Loyalty Dollars! How Do I Use Them?
You can use your loyalty dollars one of four ways:
#1 Reduce the Annual Percentage Rate (APR) of a new vehicle that you lease or finance with Nissan Canada Finance
*Amount of APR reduction will vary by model and other specifics of the lease/finance agreement. Please contact your Nissan Dealership for details. Nissan Canada Finance Loyalty Program rate adjustments cannot reduce the lease rate below 0.01% or reduce the finance rate below 0.0%.
#2 Towards the purchase of the Nissan Added Security Plan. Buyers will still be responsible for the costs associated with the purchase of the ASP which are not otherwise off-set by the application of the Loyalty Dollars.
#3 Take an after-tax deduction from the final negotiated selling price of a new vehicle.
#4 Off-set the lease/finance payments on your current Nissan vehicle or put it towards penalties or other amounts associated with ending your current lease or financial contract.
Oakville Nissan - The Finance Loyalty Program
Oakville Nissan has the largest Nissan showroom in Ontario! That means we have a massive selection of new and pre-owned Nissans available for test-drive, Monday through Saturday! We believe in saying YES to all our customers and helping their automotive dreams come true. That's why we love the Nissan Canada Finance Loyalty Program because it allows us to do just that!